Blog
Position of women 2: Child Marriage American style
I came across this fascinating article on child marriage in the United States today –  Married Young: The Fight over Child Marriage in America. (for the associated podcast see here). The account of Heather (15) and Aaron's (24) marriage is an insight into a practice we often associate with far-flung corners of the world. What I find darkly fascinating here is that the same patterns emerge as can be seen for child brides globally; the brides are much younger than their male partners, girl's married young are more likely to suffer from psychological problems, they drop out of school as a result of their new status as wives, and are more likely to be the victims of domestic violence. Together this indicates that women married young to older partners (and here we're not talking about 18 year olds but those aged between 9 and 15) find themselves with much less power in a relationship than spouses who are closer in age and marry once fully adult. The other aspect of this that has parallels in countries which are often considered very different to the US is the patchwork of laws that exist and the fact that lawmakers are reluctant to address this in the face of religious or cultural pressures.
There are many advocacy programmes focused on trying to eliminate the phenomenon of child marriage globally. These are often focused on a set of usual suspect countries; Afghanistan, Yemen, Ethiopia, Pakistan, India etc. feature prominently. The statistics are harrowing; 39,000 girls pressured or forced into marriages with older men every day (about one every 2 seconds). There is obviously a structural difference between places where women are structurally married off before they reach maturity and those were this is a more outlandish occurrence. But these American girls should not be forgotten. Heather's final line in the article is telling: "What I always say is you can't grow back down after you've grown up."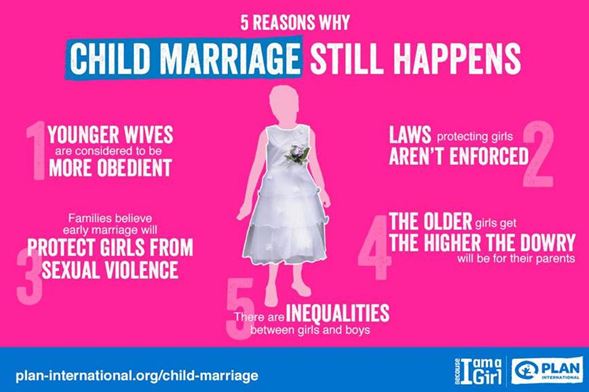 For a provocative media campaigned aimed at ending child marriage see:  Plan international
The featured image on the homepage of the blog is from a campaign by Plan Norway. See here for more details.