Blog
Netherlands blocking EU emergency fund for COVID-19
The plan for today was that I would give you an update of the garden (still in deep crisis) and then tell a bit about the new kid on the block, the robin, and the question where does his/her beauty come from. But politics intervened.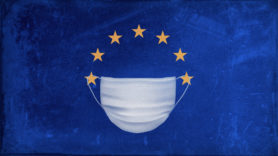 Last Thursday our prime minister Rutte blocked in a not very diplomatic way requests from Southern European countries to use EU emergency funds for coping with the crisis they are going through. A very foolish and strange position – in times of crisis you have to support your friends! – which will increase the north-south divide that is undermining the stability of the entire EU project. When a few colleagues took the initiative to send an open letter to the government, I immediately joined (see the text below).
These differences have deep historical roots, as we are very much aware (already in the Middle Ages you see certain patterns that reappear today), but the big mistakes in the European project have, I think, been made in the 1990s. I always thought that the historic mission of the EU was to stabilize democracies all over Europe – in particular in the south (remember that in 1973 Greece, Portugal and Spain were still dictatorships!), and after 1990 also in the east. The deal was supposed to be: you become democratic, we integrate you into the European economy, which will  lead to much economic growth, which will stabilize your democracy. This worked for some time, and continues to work for the Mediterranean – it is amazing how resilient the Greek democracy has been in spite of the dramatic economic crisis – but the institutional guarantees that the EU tried to impose on its member states have not been strong enough to stop Eastern European countries like Hungary and Poland to slowly slide into some kind of autocracy. The integration of Eastern Europe is from this perspective becoming a nightmare and we have to prepare ourselves to share our house with politicians who derive their inspiration from another dynamic leader from eastern Europe. The rapid enlargement of the 1990s was the first mistake, the euro the second one. It was a political project (to reconcile France with the reunification of Germany), and most economists were for good reasons highly critical about uniting so many very different countries in such a way – given the fact that real power remained decentralized (in the member countries) and economic and monetary traditions were so different. After the 2008 financial crisis it became increasingly clear that for once the economists had been right, and that the negative consequences of maintaining the straightjacket of the euro were huge, and fully felt by Greece, Spain, Portugal and Italy. In more recent years the south had struck back by controlling the European Central Bank and implementing policies which were favourable to their banks (and bad for pension funds and savings of the north). And now we witness another stage in this battle….    It is such a bizarre situation: the ECB is spending billions of euros on keeping interest rates down (but they are already incredibly low) and sustaining the liquidity of the banking system, whereas funding that is necessarily to keep the Italian economy from going into a deep depression is not forthcoming, because not consistent with financial orthodoxy.
And just in time the Robin showed up, took his position in the sunshine, and started to sing….See the draft letter below; it is in fact much too nice and far too diplomatic!
Europese aanpak is in het Nederlands belang
Er is nauwelijks een duidelijker gemeenschappelijke uitdaging te bedenken dan de huidige corona pandemie. De gezondheid van Nederlanders is direct afhankelijk van de gezondheidssituatie in andere landen waar wij contact mee hebben. Nederland blijft niet lang virusvrij als het omgeven is door landen met zieke mensen. En contact is voor een open handelsnatie als Nederland van levensbelang. Handel die wij in de eerste plaats drijven via de interne markt met andere EU-lidstaten.
Terecht wordt in Nederland nu met een groot pakket van maatregelen de economie 'gestut', met een pakket dat de komende maanden kan oplopen tot 65 miljard worden bedrijven en consumenten op de been gehouden. Maar als misschien wel de meest open economie in de eurozone is het nu zaak om ons aan te sluiten bij een Europese aanpak. Het is ons eigen belang dat landen als Italië, maar ook Spanje en Portugal, de crisis effectief te lijf kunnen. En of we het leuk vinden of niet, de gemeenschappelijke valuta legt hier extra druk op. De strijd tegen een gemeenschappelijke vijand, het virus, mag de  eurozone niet in een crisis storten.
Twijfel over de kredietwaardigheid van landen kan op financiële markten gemakkelijk tot een self fulfilling prophecy leiden. Beleggers eisen een hoger rendement vanwege het vermeende risico, waardoor de rente op staatsschuld stijgt. Daarmee nemen de financieringsproblemen voor het desbetreffende land daadwerkelijk toe wat tot een nog hogere risicopremie leidt, enzovoorts.
Er zijn twee redenen waarom Nederlandse obstructie nu contraproductief is. De eerste is dat de Europese Centrale Bank in dat geval weer op eigen houtje zal gaan acteren. Voor zover al gewenst, zullen we er nooit in slagen dit tegen te houden. Dat betekent dat democratische legitimatie en sturing ontbreekt, en de regeringsleiders en parlementen weer hebben gefaald en aan de zijlijn staan. De tweede reden is meer tactisch. Nederland moet effectief zijn in Europa, we moeten onze momenten kiezen. Landen moeten uiteraard hervormen en hun huishoudboekje op orde krijgen. Om dit te bewerkstelligen zullen we in de toekomst zeker 'met de vuist op tafel moeten slaan'. We moeten daarom ons kruit drooghouden. De gemeenschappelijke dreiging van het virus maakt harde standpunten nu totaal ineffectief. We kunnen en moeten vanuit onze relatief comfortabele positie solidariteit uitstralen.
Overtuigende Europese actie is nu nodig. Eerste stappen zijn al gezet. De Europese Commissie heeft binnen de huidige begroting tientallen miljarden gevonden, en begrotingseisen zijn versoepeld. De Europese Centrale Bank heeft aangekondigd de economie te stimuleren door onder meer voor meer dan 1000 miljard euro aan schuld op te kopen. Vooral de recente besluiten van de ECB zijn significant, in het bijzonder het Pandemic Emergency Purchase Program. In de marge is ook het ESM iets verruimd.
Met de door de ECB aangekondigde flexibiliteit, waardoor de ECB ook specifieke landen kan steunen, is de ECB weer in de lead. Waar blijft de democratische legitimatie vanuit EU en regeringsleiders? Een gemeenschappelijke budgettaire poot om de crisis te bestrijden ontbreekt. De meeste maatregelen zijn nationaal van aard. Daarbij valt op hoezeer de noordelijke EU-lidstaten in staat zijn om meer geld uit te geven dan de zuidelijke. Afgelopen weekend lekten Duitse plannen uit voor een steunpakket van meer dan 350 miljard euro. Italië zelf kwam met een pakket van 25 miljard euro, veel minder en ook nog eens veel problematischer vanwege de precaire financiële positie van Italië. Juist nu is Pan-Europese backing van zwakkere landen cruciaal. Ook zij moeten een ondersteuningsbeleid kunnen voeren. Het coronavirus is een gemeenschappelijke vijand, en die vergt gemeenschappelijk beleid.
Een oplossing is mogelijk voor specifiek deze situatie, voor deze corona crisis. Dus geen permanent mechanisme waarbij alle eurostaten voor elkaar garant staan, geen mutualisering van bestaande schuld, maar wel van de financiering nodig voor aanpak van de huidige crisis.  Voor de hand liggend is de activering van het bestaande noodfonds ESM door, bijvoorbeeld, het vanuit het ESM aanbieden van kredietlijnen aan lidstaten. Het ESM heeft een leencapaciteit van €410 miljard, dat kan worden verhoogd. Hoe dan ook zal de ECB rugdekking moeten geven, maar in ieder geval zijn dan de regeringsleiders in de lead.
De Nederlandse keuzes zijn beperkt. We ontkomen er niet aan ruimhartig te zijn, en dit uit te dragen.
Signed by, amongst others, Arnoud Boot, Dirk Schoenmaker, Sweder van Wijnbergen, Rick vd Ploeg, Barbara Baarsma, Clemens Kool, Dirk Bezemer, Lans Bovenberg, Harald Benink, Eric Bartelsman en Coen Teulings.